Description
Our simplest soldering learning kits with just ten solder joints to practice! Perfect for absolute beginners: one LED, one resistor, one switch and a coin cell holder are the parts you get to solder to build your very own red-LED flashlight.
You can choose two flavors: either with "through hole" or "surface mount" components.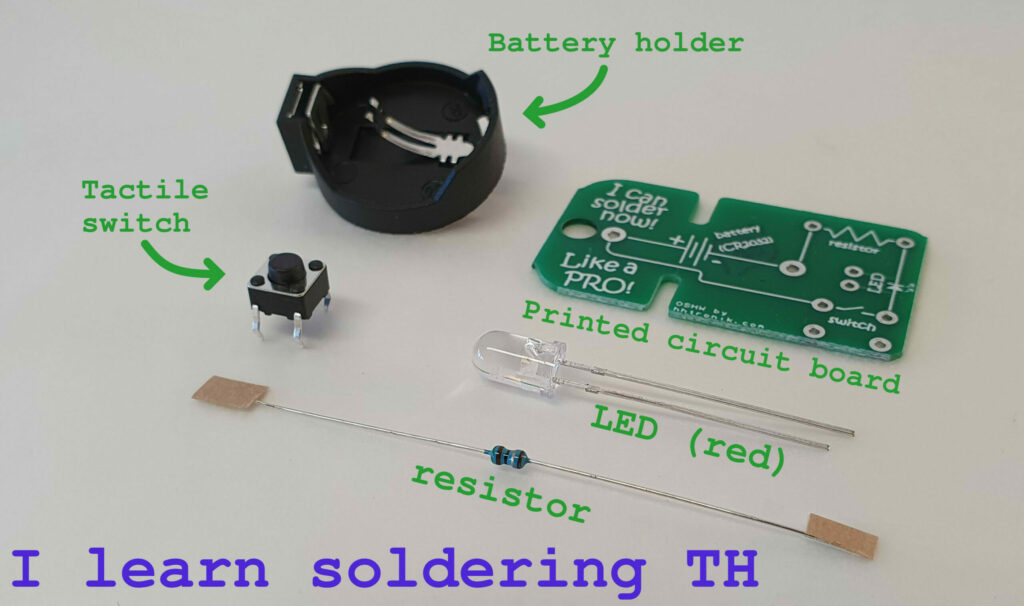 The former are those parts that have long lead wires you have to stick through holes (hence the name) in the PCB and then solder down. As a last step you can cut the excess wire length.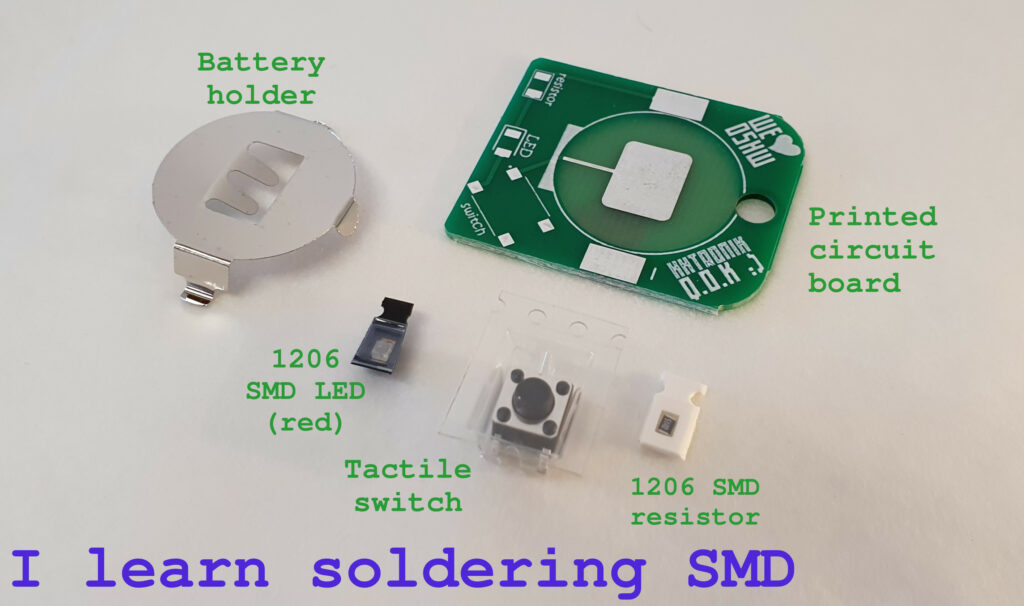 The surface mount version replaces all through hole parts with more modern looking SMD versions. It's the same circuit, just using the technology that drove miniaturization in electronics to the next level. The vast majority of all electronic devices manufactured today are using SMD, and those tiny-bitsy parts can be scary at first glance! Don't worry though, we chose easily manageable parts for the SMD kit, with the smallest part still measuring about 3.20×1.6mm (that's 0.12×0.06″).
---
What's in the kit?
1x PCB
1x resistor
1x high brightness red LED
1x tactile switch
1x CR2032 coin cell holder
…in either through hole or surface mount version
What tools do I need?
just about any electronics soldering iron should be ok
some solder
a pair of snips for the through hole version
tweezers for the SMD version
Who's this for?
Anyone wanting to learn or practice soldering. It's very easy to complete and you need only basic tools. Completing the kit (4 components, 10 solder joints) should take you anywhere between an hour (never touched a soldering iron before, includes YouTube watching time) to few minutes.
These kits are fully Open Source Hardware: OSHWA certification DE000018 and DE000021. You can find all ECAD data (free RS Designspark required) and documentation in the I learn Soldering TH or I learn soldering SMD Github repositories.
Totally new to soldering? Read our 101 soldering, Guided assembly tutorials for the I learn soldering kits: