Hi and welcome!
HHTronik is your source for awesome* electronic modules for your projects! Kits, modules, tools and more for Arduino/Raspberry PI/ESP32 etc…
(*) we offer only products we find worth buying ourselves. Furthermore we design and manufacture our own electronic modules in Engen – Germany. They all come with a detailled datasheet for less surprises and more fun, so you can buy with confidence!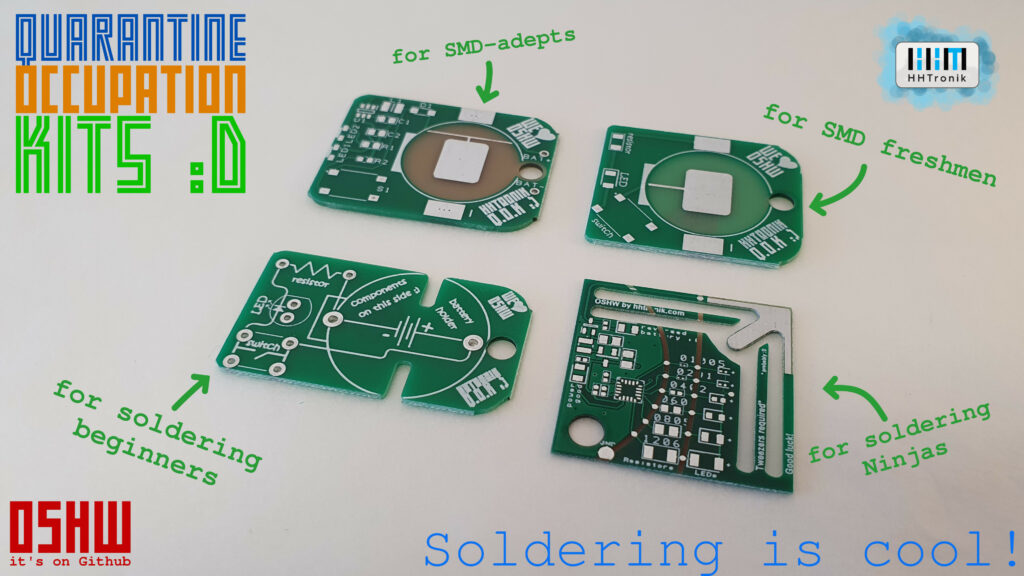 Free shipping Q.O.K Lockdown special
Bored in lockdown? Learn soldering or improve your soldering skill with our Quarantine Occupation Kits!
Put one of each in your cart and get free shipping now!
Featured products
PGCPSU DUO
PGCPSU is a three-in-one power supply board: it integrates a lithium battery charge management circuit with 5V and 3.3V DC-DC converter-based output rails to power most projects in a very compact form factor.
incl. 19% VAT
plus Shipping
Ships immediatly
µBoost – that tiny boost converter
An ultra compact 3.3v out boost converter targetted at low and ultra low power applications. Super low quiescent current!
incl. 19% VAT
plus Shipping
Ships immediatly
Q.O.K. I.CAN.SOLDER Challenge
This one is definitely not designed with SMD beginners in mind, worse actually; it's designed to be challenging even to experienced solderers.
incl. VAT
plus Shipping
Ships immediatly
New products
On Sale
Discover the shop
more awesome stuff for your projects
From our Blog
---
Tell your friends about us
Want to get the latest news from us 1 to 3 times a month?
Then subscribe to the newsletter!
You can read our privacy policy here.