Description
This soldering challenge is definitely not designed with SMD beginners in mind, worse actually; it's designed to be challenging even to experienced solderers.
There's no way you could perform the assembly without good fine tip tweezers, very steady hands, buckets of flux and all your favourite expletives! You can get the SMD challenge board in two "flavors": the standard one (which comes half populated, you'll have to solder the different size resistors and LEDs) and the PITA edition, which is basically a bag of components and the bare PCB.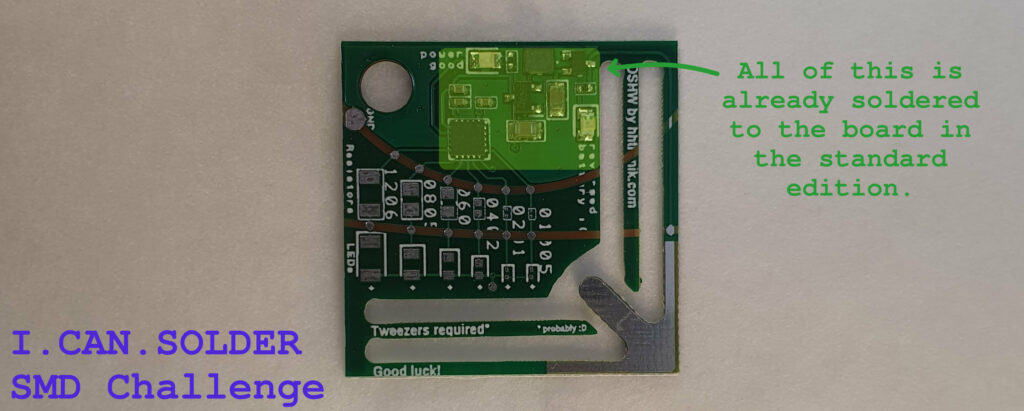 The PITA edition adds a variety of other components like an SC-70 MOSFET, a few more passives (0805, 0402), an SMD inductor, a SOT23-3 boost converter IC, a couple more LEDs and (that's the real PITA part:) a UFQFPN-20 packaged STM8 microcontroller (basically a 20 pin, 0.5mm pitch QFN package with 3.0×3.0mm outline).
To make all of it a bit more interesting the parts come unlabeled, which means you'll have to measure some of the devices (don't worry, most have a unique footprint, so you shouldn't mix them up too easily).
You'll need a SWIM compatible programming adapter (like our ST Link V2 programmer for example) to flash the microcontroller.
The kit includes a few extra 0201 and 01005 resistors because they're so easy to lose track of. Sadly (or luckily for you) we couldn't find any 01005 sized LEDs (they simply don't seem to exist), so the "01005" row include another 0201 LED (challenging enough)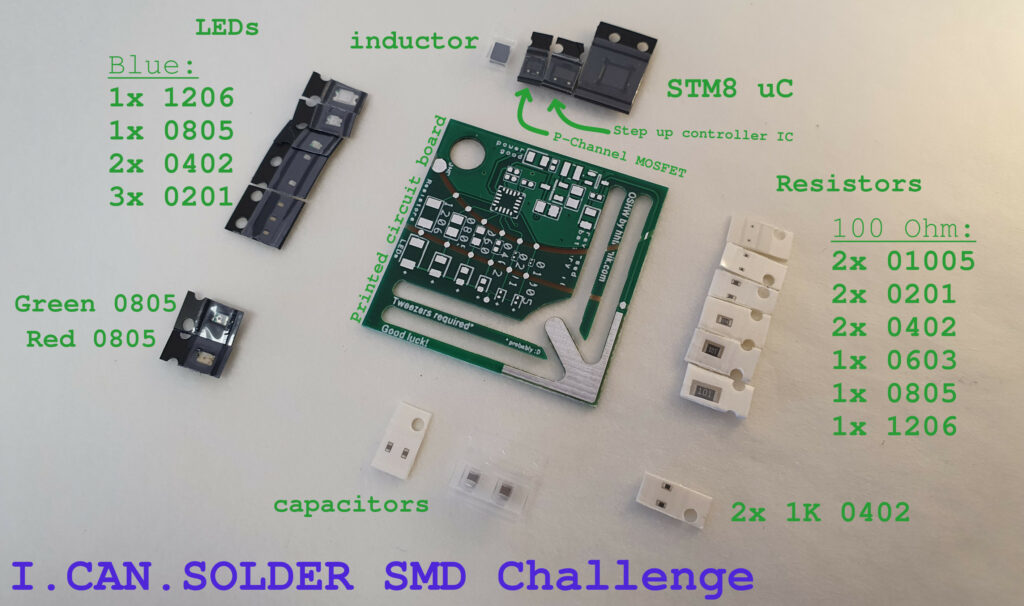 ---
What's in the kit?
The standard edition comes with one PCB with the driving stage prepopulated and programmed, six pairs of resistor and LED in following sizes: 1206, 0805, 0603, 0402, 0201, 01005 stuck to a small card.
The PITA editon contains one bare PCB and all the required components.
What tools do I need?
a fine tip soldering iron (an temperature adjustable one is probably a good idea)
thin gauge solder
your finest tweezers (!!!)
a multimeter
a boat-load soldering flux
a high level of frustration tolerance
Who's this for?
steady-handed soldering Ninjas! Seriously. If you're just trying to find out what you can do, you should maybe get both editions, just to be sure.
This kit is fully Open Source Hardware: OSHWA certification DE000020. You can find all ECAD data (free RS Designspark required), firmware source code and documentation in the Github repository.
You're totally new to soldering? Then this soldering challenge is probably not a good start… want to have a look at something easier? I learn soldering SMD / TH or I learn soldering SMD boost edition